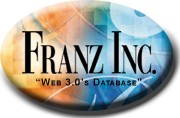 Franz Inc. provides a suite of Enterprise ready Common Lisp development tools, lead by the flagship products - Allegro CL® with AllegroCache® and AllegroGraph®. These highly scalable, database backed products provide an ideal environment to create complex, mission-critical applications that solve real world problems very quickly. Franz is committed to market-driven product development, the highest levels of product quality and responsive customer support and service.
Franz Inc. offers an innovative Common Lisp based Technology Stack along with expert knowledge in developing and deploying Common Lisp based Semantic Web solutions. AllegroGraph, Franz's high-performance, scalable, disk-based RDF Database, provides the solid storage layer for powerful geotemporal reasoning, social network analytics and ontology modeling capabilities for today's Semantic Technology applications. Franz's products and services are uniquely positioned to help bring your Web 3.0 ideas to reality.
Free versions of Allegro products are available from Franz's Download page. For start-ups, commercial, and research users we offer license packages with unlimited technical support at a very low total cost of ownership.
LispWorks Ltd provides cross-platform development tools software written using ANSI Common Lisp.
LispWorks® is a modern integrated development environment. Its feature-rich graphical tools and unique cross-platform capability make LispWorks the ideal tool for Common Lisp application development and deployment. Pricing for commercial and academic use is affordable with no royalties for deployed runtimes.
Other products include KnowledgeWorks® and Common SQL. We also offer speedy, high quality technical support.
A free version of LispWorks is available for non-commercial use.